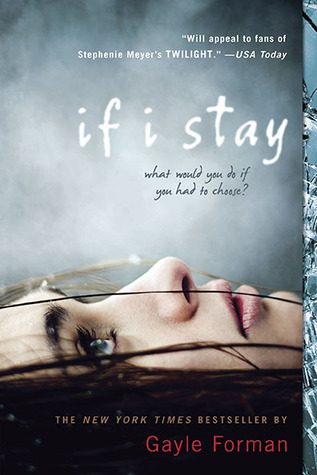 Title: If I Stay
Author: Gayle Forman
Genre: Young Adult, Fiction, Romance, Contemporary
Format: Paperback
'Sometimes you make choices in life and sometimes choices make you.'
INFO | Goodreads
BUY | The Book Depository
---
In the blink of an eye everything changes. Seventeen year-old Mia has no memory of the accident; she can only recall what happened afterwards, watching her own damaged body being taken from the wreck. Little by little she struggles to put together the pieces- to figure out what she has lost, what she has left, and the very difficult choice she must make.
All the feels. That's the saying, isn't it? When you're on the bus and you have to look out the window to stop yourself from sobbing all over the man across from you. This book was brilliant for many reasons, but number one because it made me cry on public transport.
I realize now that dying is easy. Living is hard.
Despite all these tears, I have to say that I thought the book started quite slowly – I seem to be saying that a lot lately. Maybe I'm getting impatient in my old age? It took me a little while to get into the style of the book; at the beginning, I felt disconnected from the flashbacks and memories as I did not yet know the characters. It soon picked up, and I found the characters to have a lot of depth. I wanted Mia to choose life because I really liked her, and thought her love for her boyfriend Adam to be utterly authentic; I was rooting for them. I enjoyed the way that we were able to watch how each of her close relatives (and the hospital staff) dealt with her state: her chatty Gran, her quiet Gramps, the supportive and worried nurse.
Her affection towards her family reminded me of Simon vs the Homo Sapiens Agenda. I loved the fact that Mia's parents were cool and she had a good relationship with them. Maybe it is just the material I have read in the past, but I so rarely have come across books with really positive parent-child relationships. I always had a good relationship with my parents as a teenager and it is refreshing to see this reflected in teen/YA fiction.
I couldn't find any evidence that Gayle Forman has a musical background (though I actually didn't look very hard), but she writes with such a genuine passion for music, that I was truly convinced of the importance of it in Mia's life. I also found the flashback to Adam and Mia's cello scene hilarious:
'Play me,' he said.

'What?'

'I want you to play me like a cello.'
It conjured up memories of Titanic – "draw me like one of your French girls" – and I really couldn't take it seriously. I am not very musical myself (which always made me the odd one out in my house) so the sensuality of that experience really went over my head. Still, it was silly, and that's what love is about sometimes.
I'm disappointed to hear that there is a sequel. I felt Gayle Forman ended the book spectacularly. I had complete closure, and in my opinion there was nothing more to be said. She had made her decision, end of story. Has anyone read the sequel? I would be interested to hear some thoughts on this.
Edit: I read the sequel!
Star Rating: ★★★★★ (5/5)