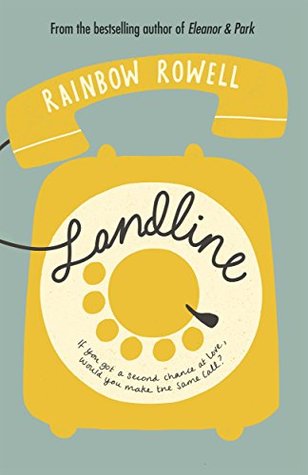 Title: Landline
Author: Rainbow Rowell
Genre: Adult Fiction, Contemporary, Romance, Fantasy
"Nobody's lives just fit together. Fitting together is something you work at. It's something you make happen – because you love each other."
INFO | Goodreads
BUY | The Book Depository
---
I'm quite pleased to be up-to-date with all Rainbow Rowell's books now. Discovering Rowell this year has been a very exciting venture for me. Usually I read books based on the merit of the book itself, not the author, but I've been craving Rowell's style. Her books are so easy to read – brilliant for squeezing into a free ten minutes here and there.
Landline follows Georgie, a comedy sitcom writer who finds herself separated from her husband and children over Christmas due to her busy workload. Having parted on bad terms with her husband, she fears for her marriage whilst trying to juggle an exciting new step in her career.
Having not heard anything about the book before reading (had I even read the blurb?), I was quite surprised to discover the introduction of the magical yellow landline. Fortunately, it was a nice surprise – I liked that talking to an older version of her husband helped her come to terms with how poorly she was treating him in the present. I also liked that her career was so important to her, and I genuinely felt torn between her following her dreams or staying with the man she loved.
I can't really fault the book at all. Neal was suitably realistic, the plot built nicely, and I had to keep telling people to shush so I could read on.
Star Rating: ☆☆☆☆☆ (5/5)