First Lines Fridays is a weekly feature for book lovers hosted by Wandering Words. Judge a book by its opening lines, and not by its cover! Also, feel free to use or edit the banner with your own First Lines Fridays posts!
The rules:
Pick a book off your shelf (or your current read) and open to the first page
Copy the first few lines, but don't give anything else about the book away just yet – you need to hook the reader first
Finally… reveal the book!
---
The last train wasn't coming.
---
Read on to find out which book this extract is from…
Night Owls by Jenn Bennett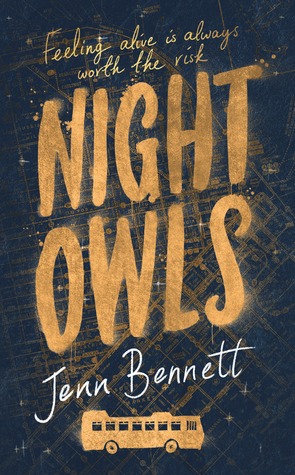 Goodreads | The Book Depository
---
Blurb (from Goodreads):
Meeting Jack on the Owl—San Francisco's night bus—turns Beatrix's world upside down. Jack is charming, wildly attractive…and possibly one of San Francisco's most notorious graffiti artists.
But Jack is hiding a piece of himself. On midnight rides and city rooftops, Beatrix begins to see who this enigmatic boy really is.
---
I bought this book for my sister for Christmas; ironically, I chose it for its beautiful cover! However, I've been sold by other points since – the engaging blurb, that interesting first line, and it now has a prime place on my TBR (with all those other books!).
Have you read this book? Have you ever chosen to read a book based purely on an extract, nothing more? Share your experiences!
Also, if you want to try First Lines Fridays yourself, copy and paste the rules above and post your first lines to this page for everyone else to see!
Happy reading!