First Lines Fridays is a weekly feature for book lovers hosted by Wandering Words. What if instead of judging a book by its cover, its author or its prestige, we judged it by its opening lines? If you want to make your own post, feel free to use or edit the banner above, and follow the rules below:
Pick a book off your shelf (it could be your current read or on your TBR) and open to the first page
Copy the first few lines, but don't give anything else about the book away just yet – you need to hook the reader first
Finally… reveal the book!
Feel free to comment below or tag me in the post, so I can check it out and share it on Twitter.
It was the closest kingdom to the queen's, as the crow flies, but not even the crows flew it. The highest mountain range that served as the border between the two kingdoms discouraged crows as much as it discouraged people, and it was considered unpassable.
---
Read on to find out which book this extract is from…
The Sleeper and the Spindle by Neil Gaiman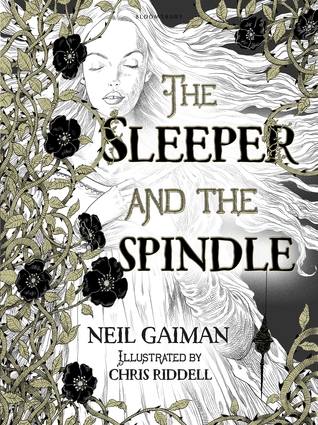 Goodreads | The Book Depository
---
Summary:
You may think you know this story. There's a young queen, about to be married. There are some good, brave, hardy dwarfs; a castle, shrouded in thorns; and a princess, cursed by a witch, so rumor has it, to sleep forever.
But no one is waiting for a noble prince to appear on his trusty steed here. This fairy tale is spun with a thread of dark magic, which twists and turns and glints and shines. A queen might just prove herself a hero, if a princess needs rescuing…
---
I've seen this around, and was so happy to find it at the library! It just looks incredible – written by a great author and with the most beautiful illustrations too. I can only imagine how long some of these full page drawings took to complete… The whole book looks really unique, so I hope it's as good as it looks.
Check out the First Lines Fridays archive for more posts!