First Lines Fridays is a weekly feature for book lovers hosted by Wandering Words. What if instead of judging a book by its cover, its author or its prestige, we judged it by its opening lines? If you want to make your own post, feel free to use or edit the banner above, and follow the rules below:
Pick a book off your shelf (it could be your current read or on your TBR) and open to the first page
Copy the first few lines, but don't give anything else about the book away just yet – you need to hook the reader first
Finally… reveal the book!
If you're using Twitter, don't forget to use #FirstLinesFridays!
Carl Sagan said that if you want to make an apple pie from scratch, you must first invent the universe. When he says "from scratch," he means from nothing. He means from a time before the world even existed.
---
Read on to find out which book this extract is from…
The Sun Is Also a Star by Nicola Yoon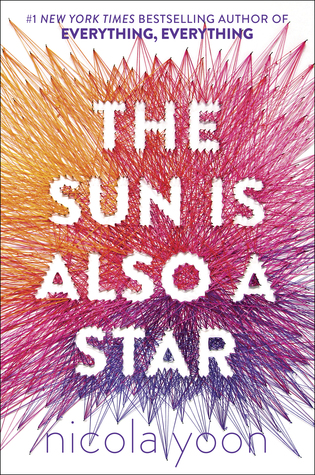 INFO | Goodreads
BUY | The Book Depository
---
Goodreads Summary:
Natasha: I'm a girl who believes in science and facts. Not fate. Not destiny. Or dreams that will never come true. I'm definitely not the kind of girl who meets a cute boy on a crowded New York City street and falls in love with him. Not when my family is twelve hours away from being deported to Jamaica. Falling in love with him won't be my story.
Daniel: I've always been the good son, the good student, living up to my parents' high expectations. Never the poet. Or the dreamer. But when I see her, I forget about all that. Something about Natasha makes me think that fate has something much more extraordinary in store—for both of us.
The Universe: Every moment in our lives has brought us to this single moment. A million futures lie before us. Which one will come true?
---
This is my current read at the moment, and I'm loving it! Nicola Yoon has such a natural way with words, and the writing is effortless to read. I'm also enjoying the dual-narrative aspect and the chapters providing backstory to more minor characters – in that sense it reminds me of the narrative style in The Book Thief. It's quirky; I like it.
Though for some reason I can't wrap my head around the title. I seem determined to accidentally call it "The Sun Is Not A Star" whenever anyone asks me what I am reading, which I'm quite sure ruins the entire message of the book…
Check out the First Lines Fridays archive for more posts like this!
Happy reading,